Top Stories
Sangria in the Bags: the Ibex falls 4% due to the appearance of a new variant | Markets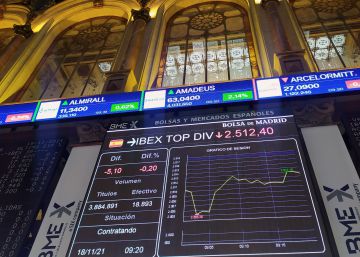 Fears about the new variant of Covid-19 detected in South Africa and the global rate of contagion are sowing uncertainty in the European parks that suffer severe collapses. After opening with a decrease of 3.2%, the Ibex 35 lost more than 4%, to 8,440 points, in line with the rest of the European indices.
Within the selective, no value manages to escape the strong wave of sales that sweeps the market with risk aversion through the roof. Companies linked to travel and tourism are once again the most penalized. IAG and Amadeus plummet more than 10%. Meliá and Aena suffered decreases of around 8%.
The worst part is borne by companies in this sector after it was learned that Israel and the United Kingdom have vetoed the entry of travelers from seven southern African countries – South Africa, Lesotho, Botswana, Zimbabwe, Mozambique, Namibia and Eswatini – after the appearance there of a new variant B.1.1529 of covid-19, highly mutable. The EU has advanced that it will make a decision in this same sense in the next few hours.
For its part, Repsol plummets 7%, dragged down by the hit of more than 3% suffered by the price of oil. Banks also fall to the worst positions with crashes that are around 6%.
The session in Asia was also very negative. The Nikkei closed down 2.53%. Tokyo opened lower and lost more than 800 points after the half session, due to fears that the global situation of the pandemic and the new variant of the virus detected in South Africa would complicate the economic recovery, which in turn led to an appreciation of the yen that hurts the big Japanese exporters.
Little is known about the variant detected in South Africa, Botswana and Hong Kong, but scientists said it has an unusual combination of mutations and can evade immune responses or make it more transmissible.
"You shoot first and ask questions later when this kind of news comes out," Ray Attrill, head of currency strategy at National Australia Bank in Sydney, as currency traders were nervous, told Reuters.
Analysts advise calm before making hasty decisions. Juan José Fernández Figares, director of analysis at Link Securities, explains that he recommends that "until more is known about this variant, and in this sense, it should be remembered that so far as a pandemic many variants have been identified to which the WHO has given the title of "variant of concern" that later have not prospered or even disappeared, it is very difficult to draw conclusions ".
The expert insists that "before going crazy and starting to reduce positions, we would wait for more information about the new variant and its evolution. However, as they say," money is the scariest animal in the world ", something that we will be able to check again during today's session. "
Cyclical European stock markets have already been under pressure this week, as a resurgence in Covid-19 cases prompted new restrictions in several countries, while bets for a faster tightening of US monetary policy increased uncertainty. .
"It's a scary headline" about the virus variant, so it may have triggered a knee-jerk reaction, IG Markets analyst Kyle Rodda told Bloomberg.
"The fact that North America is off the tables means that a wall of buyers is missing" and that weaker markets allow markets to be tighter and movements to be more pronounced.
Oil and metal prices are also losing ground as reports of the new variant of the virus fueled concerns about the economic slowdown. Brent oil is trading at $ 79 a barrel and is down more than 3%.
Risk aversion leads investors to seek refuge in fixed income. Thus, the interest required on the ten-year bond stands at 0.446%.
https://watchlivenow.org