Top Stories
Collapse on the Generalitat website to download the covid certificate during the first hours of its application | Catalonia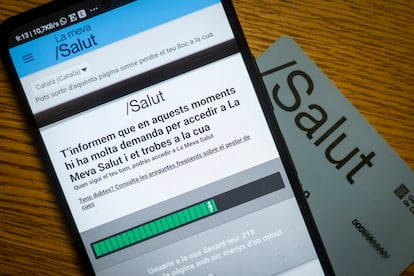 The La Meva Salut website (https://lamevasalut.gencat.cat/), essential to download the covid passport that comes into force this Friday in bars, restaurants, gyms and residences in Catalonia, is collapsed due to high demand and cannot be accessed. The portal already had problems this Thursday afternoon due to an increase in requests that caused "slowness" in access to the space 'La Meva Salut', according to the department, emntp of Health of the Generalitat in a tweet. Yesterday 170,000 covid documents were downloaded during the day.
⚠ La Meva Salut is experiencing slowness in access for a greater volume of entrades.

S'està treballant per donar responds to totes les sol·licituds d'accés.

– Salut (@salutcat) November 25, 2021
The extension of the Covid passport to restaurants, gyms and residences in Catalonia It has come into force this Friday, after receiving the judicial endorsement due to the increase in infections in Catalonia. In bars and restaurants it will only be required to access interior spaces, and both in this sector and in the others, children under 12 years of age will be exempt from presenting it, according to the resolution. The Covid passport certifies that the person has been vaccinated against Covid-19, that they have recovered from the disease in the last six months or that a test that has been negative in the last hours has been done. The measure already applied to nightlife, festivals and banquets with dancing, to new activities.
The Barcelona Restaurant Guild called for the collaboration of bar and restaurant customers to implement the vaccination passport "as long as it is necessary." The Association of Companies of Catalonia of Physical Activity and Fitness (ADECAFF) has reproached the Government for applying the COVID certificate in gyms without taking into account the sector or agreeing on how the measure has to be implemented.
From today, anyone who wants to access the interior of a bar, restaurant, gym or residence for the elderly, must prove that they are vaccinated, or provide a test with a negative result. It also helps to show that the disease has passed in the last six months. It is the same requirement that prevails since October 8 at the doors of discos and nightlife venues. The court order reasons that they are suitable measures "for the fight against the spread of the virus", but warns the Generalitat that it is not a question of any blank check: "it is worth noting that the accentuated and unrestrained addition with more and more activities it is reaching a height that will require at least greater motivation and reinforced justification ", indicates the court.
The Department of Health leaves the responsibility of establishing the verification mechanisms for each client to the locals, to which the director of the restaurant union, Roger Pallarols, responded that it will be necessary to find the most appropriate solution, depending on the characteristics of each business.
https://watchlivenow.org