Top Stories
PayPal brings your payment to Spain in three installments without interest or commissions | Companies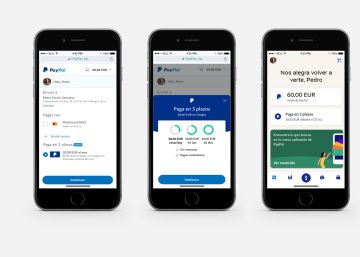 More competition in the means of payment, this time featuring PayPal, which has decided to bring its purchase solution to Spain now, pay later, which has already become a payment trend. Thus, PayPal launches "Pay in 3 installments". In this way, consumers will be able to divide eligible purchases of between 30 and 2,000 euros into three equal installments without interest or late fees.
The option of Pay in 3 installments will be accessible at the time of payment, although the operations will be subject to PayPal approval. Customers will be able to view their subscription plans in the app and will receive email notifications prior to installment refunds. They will also be able to make both partial and total advance payments.
According to a study commissioned by PayPal in October in Spain, 71% of Buy Now, Pay Later users say that deferring payments helps them manage their budget, while 70% of Millennial and Generation Z users say They use this system and agree that it helps them divide the cost and buy better products. With this launch, PayPal wants to offer greater flexibility in budget management for the 6.2 million active users that the company has in Spain.
"We are very pleased to bring this service to the Spanish market, as we have seen an increase in the adoption of online payment solutions among Spanish consumers and sellers," said Greg Lisiewski, Vice President of Pay Later at PayPal.
https://watchlivenow.org